Bruce Yogel Database Development
FileMaker Databases for Mac or Windows

Large or small projects, and consulting on existing databases
Appliance Store Sales & Service Software
Pool Construction & Service Software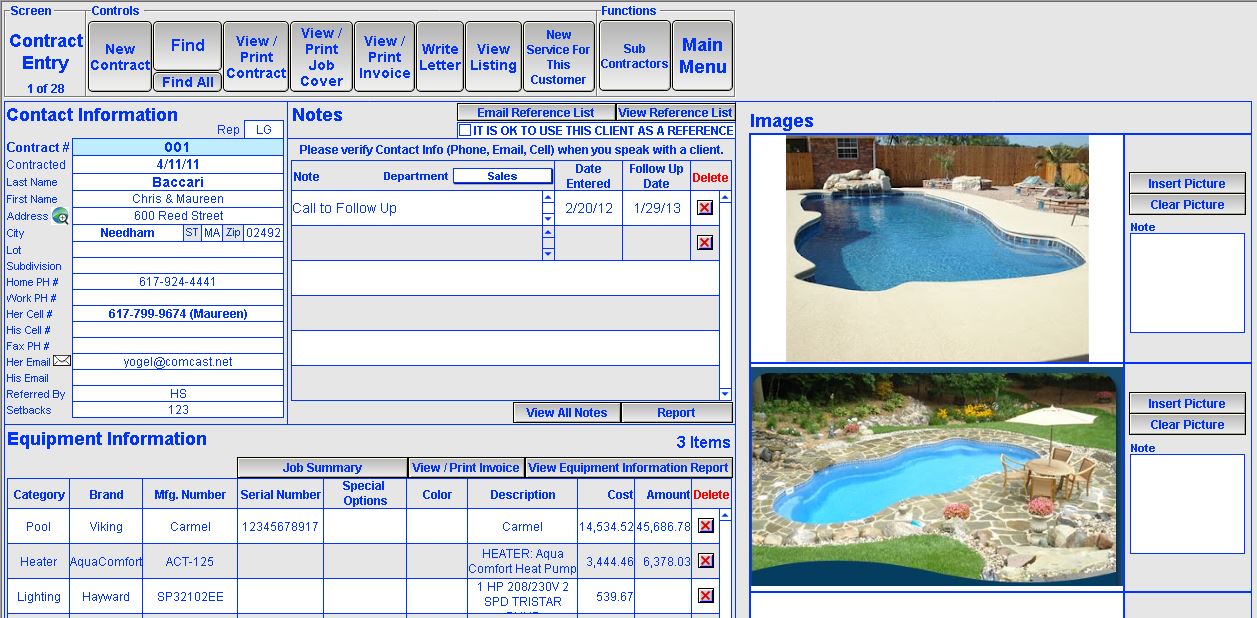 Click Here To View BioTech Development Information

Database Development at UMASS Boston
College of Advancing and Professional Studies
Support and development to the Faculty HR database
College of Nursing and Health Sciences
Development of the nursing student placement system

Database Development at Boston University
Boston University Dept. of Physical Education, Recreation and Dance
Developed a system to track Faculty payroll

¨Boston University Marketing and Communications
Developed a system to track yearbook purchases and import data from external sources.

Boston University Center for Information and Systems Engineering
Modified an existing database to restrict access to certain information based on their password.

Boston University Department of Biomedical Engineering
Developed a system to track applicant information for the "Translational Partnership Award from the Wallace H.
Coulter Foundation".

Boston University Media Group
Developed a student scheduling system that manages the distribution of media equipment to classrooms
throughout the university. The system tracks the status of equipment, classrooms and prints daily student job
sheets.

Boston University Productions
Developed a System to manage jobs (video productions, editing, etc.) and manage their vast on-site physical media
library.

School of Social Work
Modified their existing databases (Admissions, Financial Aid, and Registration) to accept
data from the University Information System (UIS) mainframe.

Provost's Office
System to record new faculty, produce formal appointment letters from the President,
report on information from the UIS system with regard to salary and contracts, tenure,
leaves and sabbaticals.

Office of Sponsored Programs
System to produce, manage and report on Grant Applications and Awards.

College of Arts & Sciences Business Office
System to record and report on budgets and expenditures.

Graduate School of Arts & Sciences
System to track graduate school applicant information and produce admission letters.

Office of Technology Development
System to track patent disclosure information, manage budget and licensing information and
produce government compliance documentation, the system is searchable at the OTT website for
technologies that are available for licensing.

Community Technology Fund
System to track University venture capital investments.

Athletic Department
System to track tickets for hockey team.
System to track equipment room inventory.
System to record and report on budgets and expenditures.

Physical Education Department
System to record and report on budgets and expenditures.

Other Database Development Projects
University of Massachusetts - Boston, MA
Support of various database issues.
Children's Hospital, Vascular Biology Program - Boston, MA
Developed a system to manage grants.
Developed a system to track purchase orders for the department.

Developed a Customer Relations Management system to record incoming customer service
calls and create form letter based emails to follow up with the customer and internal departments.

YCN School Transportation, Norwood, MA
TLC School Transportation, Canton, MA
Developed a system to track students, employees, drivers, schedules, vehicles, etc.
Dartmouth Publishing, Inc., Sudbury, MA
Developed a system to track jobs through production via barcode
Appliance Store Sales & Service Point of Sale Program http://home.comcast.net/~yogel/
Point of Sale program used by over 80 Appliance Dealers
Prints Customer receipts, delivery schedules, balance due reports, sales reports, tax reports, etc.
Connects to QuickBooks. Sends Invoice and Payment information to QuickBooks.
The Boston Institute for Arts Therapy, Boston, MA
Developed a Fundraising Donor database.
Wimbledon 109 Tennis Club, Walpole, MA
Developed a scheduling system to record court usage, track members, dues, teams, etc.
Developed the point of sale module for the Pro Shop, with upc barcode scanning and receipt printing.

BioTech Purchase Order System
System to create and track requisitions and purchase orders and provide critical financial information used to make
purchasing decisions.
Used by many startups to manage purchasing.
Connects to QuickBooks.
Ariad Pharmaceuticals, Cambridge, MA
System to record invention patent information.
System to record corporate agreement information.
Parametric Technology Corporation, Needham, MA
System to produce vendor purchase orders.
System to track customer software maintenance contract quotations and
provide key analysis reporting for top level management.
System to track invoices and budgets for legal department.
Sedona Cultural Park, Sedona, AZ & North Dakota Museum of Art, Grand Forks, ND
System to track donor address and donor information and produce correspondence.

LNS Communications, Cambridge, MA
System to track editorial opportunities for clients and produce briefing summaries.



Barcoding
I have done many barcode projects that allow the user to put barcodes
on material, providing for quick recall.

For more information on FileMaker Pro Database Development, please contact me:
Bruce Yogel
15802 N 63rd Street
Scottsdale, AZ 85254

(508) 479-2387
yogel@comcast.net

Scottsdale, Arizona FileMaker Developer Consultant - Biotech purchasing